Yerba mate vs. coffee? What to choose?
2022-05-06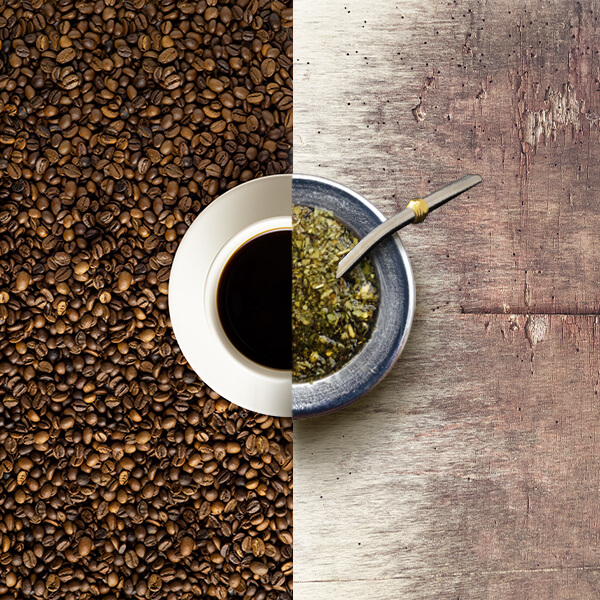 Yerba mate gains popularity all over the world. It contains many vitamins and minerals and exhibits a lot of valuable properties. It is best known for its stimulating effect. This is due to its caffeine content, which most people associate with coffee. Since both drinks contain caffeine and have a stimulating effect, it begs the question: what is better - coffee or yerba mate?
Brief on coffee and yerba mate
Coffee is made from roasted coffee beans. Whole or finely ground, roasted in different ways and to different degrees, brewed with hot water to produce a black, bitter and highly aromatic beverage. The coffee plant originally comes from Ethiopia, where its properties were discovered for the first time three thousand years ago. Today, it is known in almost every corner of the world. It is one of the basic products that can be found in almost every grocery shop and is produced by tens of millions of manufacturers worldwide. Almost everyone has a can of coffee in their kitchen. Yerba mate, although becoming more and more popular, is still very far from coffee. Yerba mate is an infusion of leaves and twigs of the Ilex paraguariensis, which grows in four South American countries - Brazil, Argentina, Uruguay and Paraguay. The plant was originally discovered by the Guarani Indians, and a few centuries later the local delicacy was made popular by Jesuits who came to Latin America on a mission to Christianise the indigenous population.
Caffeine - the common element in coffee and yerba mate
What coffee and yerba mate have in common is caffeine and its stimulating effect. Caffeine stimulates the body, reduces the feeling of tiredness, increases concentration and attention. It also occurs naturally in tea, cocoa and guarana fruit. It is added to energy drinks and carbonated drinks, such as cola. Coffee and yerba mate differ in their caffeine content. Although it is impossible to be precise - it all depends on the type of product, how it is prepared, and its intensity - it can be assumed that a litre of espresso contains about 1700-2250 mg of caffeine, about 550-850 mg of caffeine is contained in a drip coffee, and a litre of brewed coffee contains about 380-650 mg of caffeine. Comparatively, yerba mate contains about 70-360 mg of caffeine per litre. It is worth adding that the maximum recommended caffeine intake is around 300-400 mg per day.
What to choose? Coffee or yerba mate?
Although both contain caffeine, their effects are very different. Coffee stimulates strongly and quickly, but its effect is short-lasting. After a sudden burst of energy, the human body loses strength and the feeling of tiredness returns. You can drink another cup of coffee, but the effect will be similar - a quick burst of energy followed by a sudden "descent". On this score, yerba mate has a more subdued, milder effect. Its stimulating effect takes longer, but also lasts longer, and when the caffeine stops working, the drop of energy is not so sudden for the body. Both coffee and yerba mate contain, apart from caffeine, many other substances, vitamins and minerals, which have slightly different positive properties. So which drink is better? Both have their supporters and opponents. Some people can't imagine a day without having an aromatic "little black coffee" right after waking up, or a coffee with milk, sweetened with sugar or enriched with a fancy flavoured syrup as an addition to a sweet snack. Others do not like the taste of coffee or simply prefer a healthy, natural source of energy such as yerba mate. It's a matter of taste and we can't encourage anyone to change their habits, but one thing is for sure - yerba mate is an excellent alternative to coffee, which is worth trying and maybe you will love it as much as we do!