Argentina and Uruguay. Two countries, two different approaches to yerba mate
2021-06-24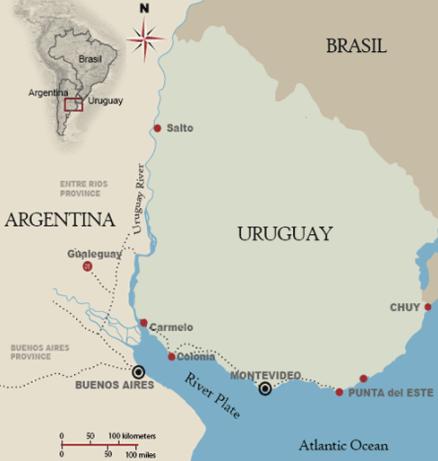 Argentinians and Uruguayans are two very close nations. They are connected by geography and language, as well as by culture and customs of everyday life. As you surely know, both are also famous for their love of yerba mate. However, when we take a closer look at the traditions associated with it, we will see some differences. We describe them in our latest blog entry.
Yerba mate from Uruguay vs. yerba mate from Argentina
As you probably know, between Argentine and Uruguayan yerba mate there are noticeable differences in taste, aroma and appearance. The first one usually consists of medium-weight, long-aged holly leaves that have been previously smoke-dried, and about 30% of the composition are sticks. They are also present in Uruguayan yerba mate. However, in this case, there are far fewer of them; generally no more than 5%. The differences do not end there. Uruguayan mate teas have finer structure and the whole thing consists of more dust. Hot air is most often used for drying, and the seasoning process is much shorter. A slightly higher moisture level of the dried material is also allowed. As a result, Uruguayan yerba has a more "organic", somewhat grassy flavor, while products from Argentina are distinguished by more intense bitterness and a characteristic smoky note.
Vessels and bombillas for yerba mate. There are regional discrepancies here too.
Depending on the country, we will also come across slightly different accessories for mate fans. For centuries, Uruguayans have emphasized their attachment to porongo ; a vessel made from a hollow tropical calabash widening at the top. Due to the uneven structure, they are most often supported by wooden or metal stands. When it comes to the choice of dishes, the Argentinians tend to be less conservative. They use both traditional gourd dishes and their ceramic, metal and even silicone counterparts. Another issue is bombillas. Here, however, the choice is not related to aesthetic preferences or traditions. The long tubes with a fine-filter tip used by the inhabitants of Uruguay are simply the best solution for infusions drunk there based on finely ground leaves and dust.
Buenos Aires skyline
Differences in the yerba mate ritual.
As you know from the previous parts of the text, the Argentinians and Uruguayans drink different kinds of yerba mate using different accessories. It turns out that the drinking ritual is slightly different depending on the country. Walking the streets of Montevideo, we will surely come across people carrying thermoses and characteristic vessels. Uruguayans cannot imagine breakfast, lunch or small snacks without mate tea and they always like to have a warm infusion at hand. Argentineans, in turn, appear to be more committed to the social and integrating aspect of eating yerba mate. They drink it more often in a traditional circle, where the dish is passed from hand to hand, and the whole thing is supervised by cebador , the person responsible for the preparation of the drink, most often the housekeeper.
As you can see, there are some differences in the culture of drinking yerba mate in Argentina and Uruguay. To a large extent, however, these are only nuances and do not dominate the common points. There are definitely more of these. After all, in both countries, mate is a national drink and an integral part of the traditions and identity of their inhabitants.
Bibliography:
https://www.lanacion.com.ar/sociedad/punta-del-este-diferencias-similitudes-mate-argentino-nid2322416/