Best mate teas for autumn. Check out our recommendations!
2021-10-22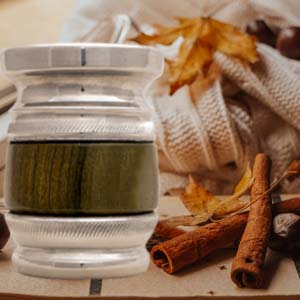 Autumn's in full swing, so it's time to enjoy mate teas that reflect the spirit of the season. If you are looking for aromatic yerba mate for long evenings, we have some really solid suggestions!
Verde Mate Toasted
What distinguishes the products of the popular Brazilian brand is the lush green color of leaves and the mild, plant aroma of the brew. Comparing to other variations, Verde Mate Toasted is like a black sheep. All because of a completely different technique of processing. The stem-free mate tea is subjected to roasting in a special oven. Once its finished, it takes on a chocolate brown color and acquires a unique aroma reminiscent of cocoa and coffee! Toasted has always worked best as a warm brew. We have no doubts that autumn is the perfect time to enjoy this amazing blend!
Guarani Let It Snow
At the outset, it should be noted: we know very well that the new Guarani variation is intended especially for the winter season. However, this warming composition also perfectly fits the autumn aura. The spicy fusion of apple, cinnamon and ginger plays a key role here. Their aroma is a great complement to the noble bitter taste of Paraguayan yerba mate. We have a feeling that Let it Snow will be a real hit!
Verde Mate Jager
One of the biggest premieres in recent weeks. The variation of yerba mate, inspired by herbal tinctures, boasts a very rich composition. Its ethereal flavour is the is largely due to the fusion of anise, fennel and mint. Thanks to these extras, Verde Mate Jager will warm you up really well. Do not hesitate and hunt for Jager in our store!
Recommended
£ 8,50£ 4,98
£ 9,96 / kg
£ 8,50£ 5,20
£ 10,40 / kg
£ 4,30
£ 8,60 / kg