New products from Brazilian brand Verde Mate: the unique flavours of summer!
2022-07-20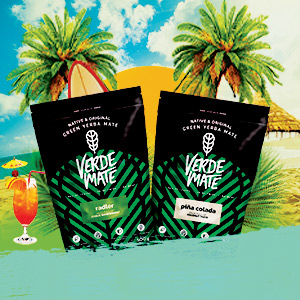 What do you associate summer with? We associate it with heat, holidays, fun and great times with friends - preferably accompanied by a refreshing beer or sweet, delicious drinks with fancy names. But what if you replace alcohol with yerba mate? Combine Ilex paraguariensis with the taste of a beer or a drink? The Verde Mate brand has the answer!
Yerba mate + alcohol. What a combination this is!
While such a combination may surprise at first, it is in fact nothing new. In countries where yerba mate comes from, mate has been combined with alcohol for a long time. A popular drink is called "yerba mate cerveza", which is simply mate poured over cold beer instead of water. It's a great alternative to tereré, popular especially in Paraguay. Cold, beer-infused yerba mate not only pleases the palates of beer drinkers who are also yerba mate lovers. It perfectly refreshes and quenches thirst on a hot day. In Latin American countries, it is also known to combine yerba mate with stronger alcohols, such as vodka or brandy. This is an intriguing combination, but only for the brave! Such mate-drink warms up strongly, but it is also very bitter in taste.
You may be wondering, is it safe to combine yerba mate with alcohol? In principle, yes. Yerba mate has stimulating properties, but the caffeine it contains does not react with alcohol. Mate with beer will therefore not "kicks" more - neither in terms of stimulation nor in terms of the strength of the percentages contained in alcohol. However, remember to maintain moderation in the amount of alcohol consumed! The caffeine contained in Ilex paraguariensis can dampen the feeling of intoxication somewhat.
New "alco-yerba mates" from Verde Mate Green
Brazilian brand Verde Mate has just released two new flavours inspired by alcoholic beverages - Radler and Piña Colada. The green, delicate variety of yerba mate, air-dried and not aged, pairs well with natural, flavoursome and aromatic additives. Both suggestions taste great in both hot and cold versions. Instead of water, why not pour frozen fruit juice or beer over them? Or create unique, delicious drinks based on them? Let your imagination run wild!
This composition will transport you to a completely different world - a paradisiacal, exotic island, amidst the ocean waves. Piña colada is a sweet, strongly fruity drink from the Caribbean that combines the flavours of pineapple and coconut. Exactly these aromas hit your nose the first time you open a packet of Verde Mate, and then the pineapple-coconut combination melts softly on your palate. Yummy!
This is not the first yerba mate inspired by the taste of beer. You are already familiar with Verde Mate IPA, in which juicy green yerba mate is combined with incredibly aromatic, slightly bitter tasting hops. Verde Mate Radler is a new, slightly lighter version of the "beer yerba mate", with a taste reminiscent of the traditional German drink combining light beer and lemonade.
What other "alcoholic" yerba mate can you buy in the MateMundo.co.uk shop?
If you haven't tried our previous "alcoholic" yerba mate offerings, be sure to test them out now! The hot summer and the holiday season we are having right now is the perfect opportunity to try the "beer-like" Verde Mate Green IPA, inspired by the herbal liqueur Verde Mate Green Jäger and the enticing, combining wine and fruit flavours Yaguar Sangria.