A new fashion in Argentina: mate vessels with images of famous politicians
2021-07-23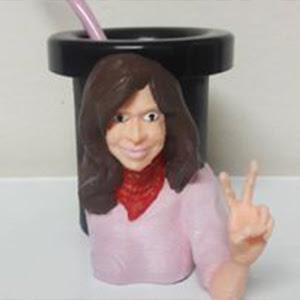 The Argentinian 3D printing studio has launched a serie of mate vessels with three-dimensional images of various characters. It wouldn't be surprising if not for the fact that most of them are… well-known figures of the local political scene. Apparently the vessels are selling great. At the same time, they provoke discussions and ironic comments... We look at reports from overseas in the latest blog entry.
Da Vinci is the name of a small 3D printing studio run by Christian D'Andrea and Pamela Coria. Over the course of six years of operation, the company has implemented various larger and smaller projects, but only now has it become famous. All thanks to a series of yerba mate vessels in the shape of heads of famous Argentinean political figures. Although their creators cut themselves off from any political ties, mates offered on the Mercadolibre advertising portal has gained great popularity, at the same time provoking fierce discussions. But more on that in a moment.
3D design of the vessel with the image of former president Mauricio Macri; source: www.lanacion.com.ar
Let's take a closer look at the vessels. By far the most popular models are those of the last three presidents of this country: Cristina Kirchner, Mauricio Macri and Alberto Fernández, who is currently in office. It is them that arouse the greatest emotions among Argentineans and are met with a number of ironic comments. For example, one user asked if there was a possibility of a complaint because his item "steals water and dries yerba mate". Others ask if "hidden debts" or, on the contrary, access to accounts in tax havens are attached to the purchase. Meanwhile, producers are doing their best to maintain an apolitical image. They assure that their extraordinary yerba mate dishes are not created to offend anyone, nor are they an expression of any political sympathies. It doesn't change the fact that the comments go on and the sale is going perfectly; even taking into account that the price of one vessel, as for the Argentinean realities, is not low. Interestingly, the company also carries out orders for vessels with the image of characters freely chosen by the customer. The only condition is to prepare and send a three-dimensional graphic design yourself. The option seems quite tempting ... Just imagine a mate with a face of one of our native politicians ...
bibliography : www.lanacion.com.ar