Ain't no joke! Buy guayusa 99% off
2023-10-23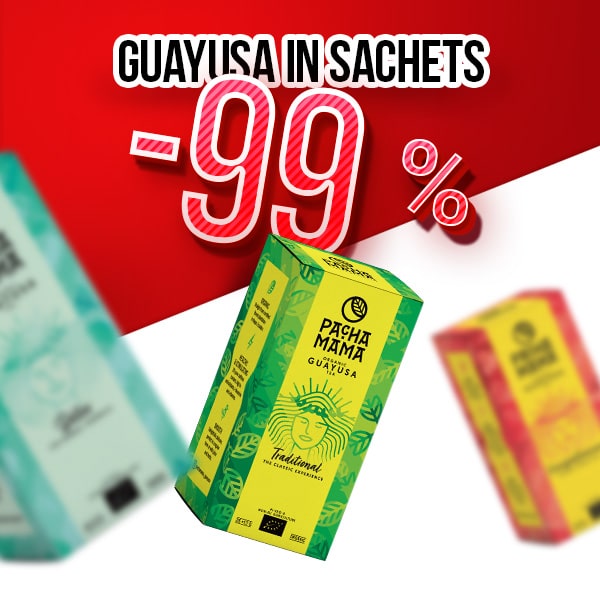 Yes, you see it right, no need to rub your eyes in astonishment. We are selling guayusa in teabags 99% off! If you're a fan of natural, stimulating infusions, you can't miss this opportunity. See how to get a packet of guayusa for (almost) free!
Ain't no joke! -99% for guayusa in teabags – check the rules
What to do to get a pack of guayusa in sachets for (almost) free? It's easy! All you have to do is add any flavour of Guayusa Pachamama in teabags to your basket (remember, you can buy only one pack per order) and then match your order with products totalling at least £40. This will reduce the price of guayusa by 99%! The action lasts for a limited time only – until stocks last, so don't wait! Take a look at our website, choose the products for minimum 40 GBP and enjoy the taste of a natural, stimulating brew straight from Ecuador!
But what exactly is guayusa tea?
If you haven't had the opportunity to learn about guayusa tea yet, don't worry – the explanation is already here! Ilex guayusa is a close cousin of yerba mate. It is a plant belonging to the holly family. It is native to South America, more specifically to the areas of Ecuador, Peru and southern Colombia. Like yerba mate, guayusa is a rich source of caffeine. Hundreds of years ago, it was discovered by the Indians of the Jivaro and Kichwa tribes, who appreciated its stimulating properties. They used leaves of the plant to make an aromatic herbal infusion that gave them energy, removed fatigue and improved concentration. The Indians also believed that an infusion of guayusa helped to achieve a state of conscious sleep. The drink became an important part of shamanic rituals during which the future was foretold.
In terms of its effect, guayusa tea resembles yerba mate – it stimulates the body perfectly, but at the same time brings a pleasant relaxation. This is due to the l-theanine it contains, which has an anti-stress effect. The biggest difference between the two infusions, however, can be felt in the taste. While yerba mate is bitter and astringent, guayusa tea is completely devoid of bitterness – it contains no tannins, which are responsible for the bitter taste. A guayusa-based infusion is more like a mild, herbal nettle tea. Guayusa is therefore a good option for people who do not like the bitter taste of mate, but still want to enjoy the natural, stimulating power of the South American Indians!
Guayusa Pachamama – the organic yerba mate alternative
You can, of course, find the original Ecuadorian guayusa tea in our online shop. The Guayusa Pachamama brand offers 100% organic, natural products from a small, family-run farm located in the Napo province. They are created from hand-picked, carefully selected holly leaves that grow semi-wild near the farm. In addition to the classic guayusa without additives, the Pachamama brand offers several delicious flavours – each containing certified organic additives such as herbs, fruits, spices and oils. Guayusa tea can be drank just like yerba mate – by pouring the dried product into a container, pouring in water and sipping through a bombilla. The difference is the temperature of the water needed to prepare the infusion. Unlike Ilex paraguariensis, guayusa is poured over boiling water. There is also an interesting innovation in the Pachamama range – guayusa in teabags. This is a great option for those who want to reduce the preparation time as much as possible. Simply drop a sachet of guayusa into a cup, pour boiling water over it and you're ready to go!
If you haven't tried delicious, stimulating guayusa tea before – now is your perfect opportunity. Visit our website, make a minimum purchase and receive a pack of guayusa in teabags at a maximum discounted price. See you there!