Mate WITHOUT yerba mate? The controversial Paraguayan drink provokes an avalanche of hatred!
2021-07-09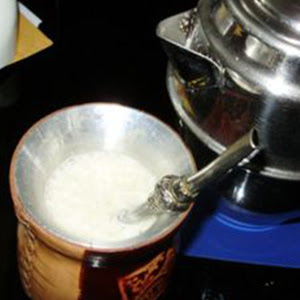 Summer has come to Europe for good ... But today, exceptionally, we're not going to talk about the heat. Let's take a trip to South America, more specifically to Paraguay and Argentina, where it is winter now. Even Paraguayans are switching from their beloved tereré to more warming drinks. One of them is warm sweet mate with the addition of milk, sugar and coconut. However, there is a problem here ...
Sweet Paraguayan mate tea. How to brew it?
The recipe was shared a few days ago by a Tik Tok user. If you ever feel like having mate dulce paraguayo , which is also the name of the drink, you can easily prepare it at home. It is enough to lightly fry the sugar (without fat) until it starts to take a caramel color. Then combine it with milk and bring it to a boil until the sugar dissolves. In the meantime, we cover our dish with coconut shavings. Then pour the milk over the content of the gourd. Ready! You can drink! In case something is unclear, here is the video discussed in our pages:
The video quickly went viral among Paraguayans. Interestingly, it also reached users from Argentina. There, however, it gained pretty negative reception. Why? Well, as you may have noticed in the video, this is mate WITHOUT yerba mate! Some clarification could do with this. Well, in South America, the term "mate" can refer to both the infusion and the dish in which it is served. So the form of serving does not change, you still drink the drink from gourd using bombilla (it will be useful in filtering coconut flakes). In our opinion, this is an interesting, though very unusual idea. However, some users' comments turned out to be unpleasant to say the least ...
Negative reception from Argentinian yerba mate fans. Where did all this hate come from?
We didn't have to wait long for haters and trolls, however. Immediately there were voices suggesting that Paraguayans are trying to be original by force, have twisted tastes, do not know what the mate drinking culture is and have nothing to do with it. Some went a step further, stating that only Argentina is the one and only motherland of yerba mate ... On the wave of negative comments, the video author has prepared one more video in which she refutes this untrue thesis:
Mate without yerba mate… What's your opinion?
We've always said yerba mate should not divide people; After all, the mate ritual is clearly associated with friendship and reconciliation. It is worth bearing this in mind before we attack someone ... even if it takes the form of a hate comment on the Internet. At the same time, it is obvious that milk mate with coconut and without the addition of actual yerba mate tea is not for everyone. We are a bit skeptical ourselves, but who knows, maybe one day we will be tempted by mate dulce paraguayo ... What is your opinion? Would you try such a drink?