New in our shop: Mary Rose bean coffee
2022-06-03
Wipe your eyes if you don't believe it. We have coffee in our yerba mate shop! Man does not live by yerba mate alone, that is why - thanks to Mary Rose brand - from now on we have the most delicious, freshly roasted, crafted coffee beans in our shop offer!
Black, with milk or maybe sweet? Which coffee do you like best?
More than a billion cups of this drink are consumed every day. Some drink it bitter, others sweet, with milk or tasty syrup. How about espresso, mocha or frappe? Everyone drinks it the way they like it. Coffee has its supporters and opponents. Some people cannot imagine a morning without it, others drink it only on special occasions. Nevertheless, it is the most popular drink in the world, and the largest quantities are produced in Brazil, South America*.
Mary Rose bean coffee - the most delicious coffee on this planet!
Mary Rose has just launched three brand new products - 100 % arabica whole beans coffees. Each variety comes from three different regions of Brazil - Mogiana, Cerrado and Guaxupe. They grow on small, intimate plantations at altitudes of around 1,000 metres above sea level. There, the coffee plants are looked after by experienced planters who ensure that only the best fruit goes into production. After harvesting, the coffee cherries are dried naturally in the sunlight. From the dried coffee cherries, green coffee beans are extracted to travel overseas. The raw, unprocessed beans arrive at a small coffee roastery in the east of Poland. They end up in the hands of a roaster who gives the green beans their final character, taste, aroma and texture. Freshly roasted Mary Rose beans closed in a package that protects them from losing their precious qualities, finally land on our customers' kitchen shelves. The resulting brew melts in the mouth and irritates the nose with its pleasant aroma.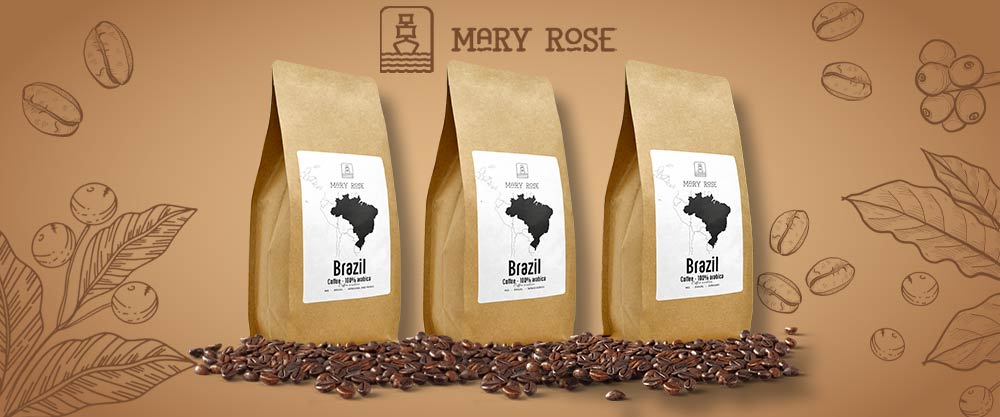 Mary Rose coffee in the omniroast grade
In addition to their high quality, delicious taste and insanely appetising aroma, Mary Rose coffees are distinguished by an innovative roasting degree - omniroast. Omniroast coffee is versatile. The standard is to match the roasting of the coffee with the brewing method. Dark roasted coffees are usually selected for espresso machines. Light roasted coffees, on the other hand, are suitable for more alternative brewing methods such as chemex or drip. The three basic levels of roasting have a number of more precise sub-types and, in addition, there are over a dozen ways of brewing coffee. If you are not familiar with all these names and options, your head may spin. Omniroast is the solution to all these problems, because coffee roasted to this degree is suitable for any brewing method, while retaining its outstanding taste and aroma qualities.
Although our shop's speciality is yerba mate, you have to believe that Mary Rose bean coffees, which have just appeared in our offer, are unrivalled. Especially for those who have not yet decided whether they like the taste of yerba mate, but are looking for a healthy source of energy. We recommend everyone to try Mary Rose coffees - they are delicious!
* Statistics: International Coffee Organization.