Oktoberfest - not only for the beer fans! The grand premiere of Verde Mate IPA, a unique yerba mate with hops.
2021-10-01
Oktoberfest is on! It turns out that beer lovers will also find something for themselves in our store. All thanks to the Verde Mate IPA, a unique yerba mate with the addition of hops, which has just been released!
Verde Mate Green is grown on a family plantation in the Brazilian state of Parana. Although its producer likes to surprise with original flavor variations, the base ingredient for each of them are finely cut holly leaves with a fresh aroma and valuable properties. The unique qualities of Verde Mate result from the original drying technique. Instead of smoke, hot air is used. As a result, yerba mate does not have the characteristic bitter note and is much milder in perception. That is why it works so well in combination with all kinds of natural additives. Among the most appreciated and popular variations we can find herbal and fruit compositions such as Verde Mate Menta Limón with mint and lemon, exotic Verde Mate Frutos Tropicales or Verde Mate Naranja Trópico with orange. The manufacturer is not afraid to experiment with slightly more unusual ingredients. A perfect example is the warmly received Verde Mate Green Coffee or Cannabis Absinth, the dietary supplement with hemp and wormwood. Today the group is extended with the addition of Verde Mate IPA , a unique "beer" mate tea with hops!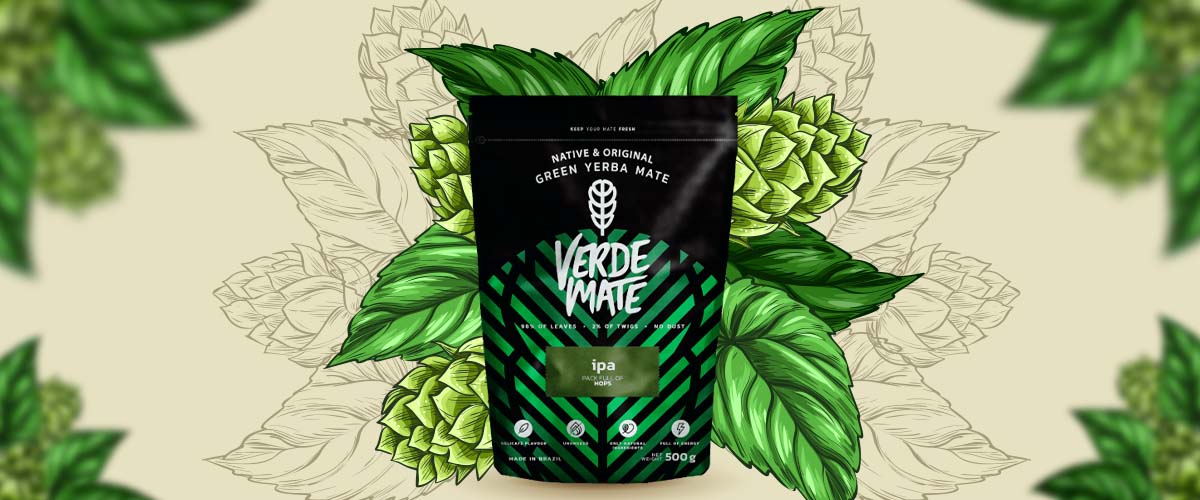 Verde Mate IPA, yerba mate flavor variation inspired by beer!
After opening the Verde Mate IPA package, the bitterness of hops is immediately noticeable, which makes the blend acquire a strong, dry character. If you combine it with strong, smoke-dried yerba, the whole thing would probably feel too intense. With a delicate and juicy green mate, however, it is just perfect. The other ingredients also deserve a lot of credit. Mint introduces a bit of refreshment, and lemongrass - sour elements that perfectly soften the hop note. The composition is enriched with calendula and hawthorn with a sweet and spicy flavor. However, they remain only a background for the "beer" character of the blend.
As you can tell from the description above, we really like the Verde Mate IPA. The delicate bitterness, uncharacteristic for the brand, makes it appealing to lovers of more intense mate tea. At the same time, it has a slightly different character, which is mainly due to the presence of hops. Regardless of how you view this unusual blend, one thing is certain: you have to try it! It is probably the only "beer" yerba mate in the world!
Recommended

£ 8,50£ 5,20
£ 10,40 / kg

£ 15,00£ 9,98
£ 19,96 / kg

£ 0,99
£ 19,80 / kg