Unique new flavour now available! Here's why you should try Verde Mate Dragon.
2021-05-14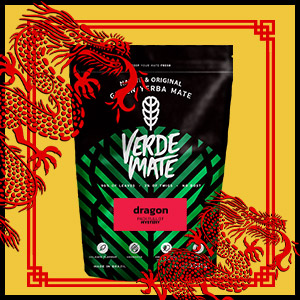 The producer of the Brazilian Verde Mate Green has always been eager to experiment with new flavours. The most recent of them is the mysterious Verde Mate Dragon. It's one of the brand's most interesting compositions. Here's why you should try it!
What's the connection between dragons and yerba mate? Well, in case of the latest blend from the Brazilian producer, we are dealing with a new variation of mate tea with the flavour of dragon fruit (also known as pitaya). Tasty and sweet fruit with a tempting aroma has been a well-kept secret in the countries of the Far East for centuries. However, in recent years, pitaya is getting popular also in Europe. It's perfect as a sweet natural snack. It also works well as an addition to porridge or smoothie. And how does it work in combination with yerba mate? So far, there weren't any blends of this kind available. Verde Mate Dragon can therefore be considered as an absolutely pioneering product. And although pioneers often have a hard time, and it may take time for an innovative idea to reach the mainstream, we have no doubt that the "dragon mate" from the Brazilian manufacturer will be a real hit!
Verde Mate Green Dragon. The power of natural ingredients!
We're dealing with one of the richest blends on the market; natural ingredients account for over 20% of the composition! Right after opening the package, we can hear a delicately sweet aroma evoking associations with the tropics. Fresh and mild green yerba mate harmonizes really well with it, giving the impression of being just perfect for this type of fusion. Fruit ingredients are also essential. Abundant apples, black currants and chokeberry accompanied by the addition of lemongrass bring slight sourness to the whole. The ingredients are counterbalanced by sweet candied papaya and sensual rose petals, while the addition of peppermint is responsible for the refreshing note. The natural aroma of pitaya is the closure and, at the same time, the perfect "binder" of all the ingredients used. It lets the pleasant, yet difficult to define blend, take on a more definite character.
How does Verde Mate Green Dragon work?
The producer from the Brazilian Parana state has always made sure that his yerba mate contains a lot of caffeine while providing a delicate taste experience. It is no different with Verde Mate Green Dragon . The whole seems very harmonious and quickly brings a feeling of agitation and freshness. The great efficiency of the herbs is a big advantage. We can refill the infusion with fresh water many times, and it will still show its valuable properties and distinct flavour. Due to its relatively mild nature, the latest Verde Mate blend will undoubtedly prove to be a great choice for beginners. It certainly will not scare anyone away with its bitter aroma. It will be a great introduction to the world of yerba mate and will motivate you to try new compositions from this and other brands. Of course, more experienced mate tea fans will also be pleased. As mentioned before, Verde Mate Green Dragon is a completely pioneering product that defies simple classifications and is difficult to compare to anything else. Let yourself be tempted by it, you will not regret it!