Yaguar Cannabis. New yerba mate tea with hemp now available!
2021-03-18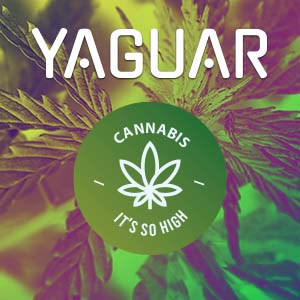 Hemp products are getting more and more popular nowadays. Recently, the food industry has also become interested in them, the best proof of which is our latest premiere! Yaguar Cannabis with hemp flour is probably the most interesting flavor in the Brazilian yerba mate brand's offer.
Yaguar Cannabis. A rich mix of a well-known Brazilian brand
After the hit Verde Mate Cannabis Absinth and Cosentina Cannabis , the time has come for another premiere, which will interest lovers of hemp products. Yaguar Cannabis is the latest offer from a well-known Brazilian producer. The main ingredient in the mix is, of course, hemp flour. However, there's a lot more to enjoy than just it. The mix consists of other natural ingredients that perfectly harmonize with the subtle bitterness of Paraguay holly. Once the packet is open, one can smell a delicate scent of rosemary in a perfect fusion with the long-seasoned, balanced taste of yerba mate. Delicate citrus accents are due to verbena and lemongrass, which, together with mint make it even more refreshing. The whole is nicely complemented with hemp flour. Its subtle aroma is reminiscent of nuts and it makes Yaguar Cannabis taste unlike anything else.
The influence of Yaguar Cannabis on your body
It's worth mentioning that Yaguar Cannabis shows a number of valuable properties. Delicate flavour and wonderful aroma make it appreciated by both advanced and novice mateists. Each sip of the infusion is a portion of vitamins, minerals and antioxidants that neutralize the so-called free radicals. Due to the presence of magnesium , yerba mate is often referred to as the healthier alternative to coffee . Its regular consumption may translate into strengthening of immunity, delaying cell aging and improving concentration . What's more, yerba mate stimulates metabolic processes. No wonder it is often included in all sorts of weight loss diets. As a conclusion, we will answer one of the most frequently asked questions. We have no doubts that on the occasion of the launch of the Yaguar Cannabis we will get them again from some customers. Well, NO yerba mate with the addition of hemp has no psychoactive effect! Which does not change the fact that it's simply great. You have to try it!
Recommended

£5.50
£11.00 / kg

£1.00
£20.00 / kg