Yerba Mate Latte
2022-05-27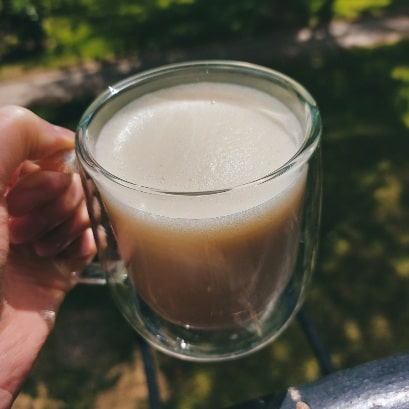 In one of our last blog posts we considered what coffee and yerba mate have in common. We also wondered which of the drinks is better. Today we come with a solution for those who haven't yet decided which they like better - with a combination of coffee and yerba mate, yerba mate latte!
The insanely delicious yerba mate in a new version
As you know, classic yerba mate is slightly bitter in taste, often with grassy notes, and even more often with a smoky aftertaste, because of the traditional processing of Ilex paraguariensis. These flavours are not to everyone's taste and this is completely understandable. There are many flavoured variations of yerba on the market with additives that considerably soften its taste, but we have a suggestion for you on how to combine yerba mate with the delicate taste of coffee with milk.
How to prepare yerba mate latte?
To prepare a yerba mate latte you need a few things:
Infuser of any type. It can be a regular tea infuser like this one, a jug with infuser, if you want to make more yerba mate latte, it can also be a french press or a coffee maker.
Milk - preferably not too fatty, for example 1.5%. You can also use almond, coconut or oat milk, then the mate latte will have an even more interesting taste!
Yerba mate - just the one you like, but we strongly recommend yerba mate without additives.
Something sweet - sugar, honey or natural sweetener. It's optional
Recipe - step by step
Step 1: Pour 1.5 teaspoon of yerba mate into the infuser.
Step 2: Heat the water to a temperature not higher than 80ºC.
Step 3: Pour hot water over the dry mate and wait about 10 minutes for the infusion to become strong.
Step 4: Prepare the milk - enough to fill a cup or mug at a ratio of 3:1. The milk can be warm or cold - depending on your preference. We recommend adding a few ice cubes to cold milk to cool it better on hot days. Optionally, you can froth the milk using a milk frother.
Step 5: Combine the yerba mate infusion and milk, add the sweetener and mix gently.
Step 6: Enjoy the delicious delicate taste of yerba mate latte!
This recipe gives you a drink with a phenomenal taste, combining the slightly earthy flavour of yerba mate and the subtlety of milk, somewhat reminiscent of a matcha latte or tea with milk. We recommend you try it!