Yerba mate tea on the road? Only with Cebador Drive!
2021-01-28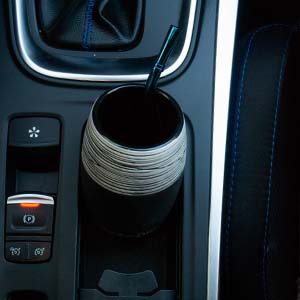 As we all know, yerba mate perfectly energizes, which is why many of you eagerly reach for it during longer car journeys. Regardless of how often you are behind the wheel and whether you do it professionally, we have something that will make your ride more enjoyable! The Cebador Drive is a gourd that fits perfectly into the car's drink holder. If you're a driver, it's a must!
Cebador Drive. The perfect mate tea cup for drivers.
Cebador Drive is the latest product from the respected brand of yerba mate accessories. The ceramic cup will hold about 250 ml of infusion. Its diameter at its widest point is 7 cm, which makes it a perfect match for a standard car drink holder. Thanks to the slightly rough texture of the upper part, the gourd feels great in the hand and can be easily grabbed without the risk of dropping. From the inside, the whole is covered with glazing. Usability is not everything. Cebador Drive looks very attractive visually. Subdued dark colors will fit well with the interior of most cars.
Cebador Drive. Car yerba mate cup now available!
The vessel has recently become part of our offer and is becoming more and more popular every day. If you want to comfortably enjoy yerba mate in your car, do not hesitate and place an order! The gourd is available in a limited number.