El Fuego yerba mate - the power of the wild element
2022-08-03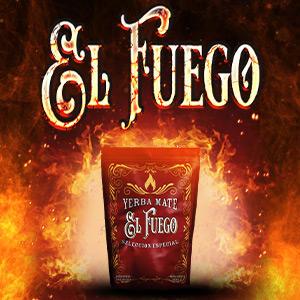 Brand new products have just appeared on the virtual shelves of our online shop - El Fuego yerba mate. Intense, strong, full of South American energy, truly Paraguayan yerba mate. A treat for strongly initiated lovers of the Guarani Indian brew!
El Fuego. The power of fire
Today we present to you a brand new product. The truly Paraguayan, highly stimulating yerba mate El Fuego. This is a mate tea for connoisseurs of the classic taste of the "green gold" of South America, for lovers of intense sensations, noticeable, characteristic bitterness, distinctive flavour and aroma notes. A perfect representation of the traditional Paraguayan yerba mate as it was drunk by its first explorers, the Guarani Indians - smoked directly from the hearth, reminiscent of the smell of forest trees, smoke and wood burning on the fire. Yerba mate El Fuego is also in a class of its own. It is produced on a prestigious plantation located in the south of Paraguay, in the department of Itapúa, where the plantators take care of each plant, tending them and then carefully selecting the best and healthiest leaves and twigs that finally end up in the yerba mate packet. The name of the brand is no accident. "El fuego" means fire in Spanish. This refers not only to the power that this yerba mate has - it is one of the strongest stimulating yerba mate on the market. The name is also a reference to the method of production, which uses a technique that has been known for centuries in the yerba mate tradition - barbacuá. This method involves drying leaves and twigs of Ilex paraguariensis using smoke and fire. This gives yerba mate an intense flavour and a characteristic smoky aroma.
El Fuego - classic flavours straight from Paraguay
To start with, the El Fuego brand has prepared for you three firmly classic variants of the highly stimulating yerba mate. Although each differs slightly in its additives, they share a few common traits. Firstly, quality. The base of each El Fuego composition is bitter, typically Paraguayan yerba mate of the highest quality. From the very first sip of the brew, you can feel the multifaceted flavours and unique depth. Be warned, however, that this is not a yerba mate for everyone. Some people, especially beginner mate drinkers, may be discouraged by the power that the ground leaves and sticks in a packet of El Fuego carry. This is yerba mate for the brave! Secondly, nature. Each of El Fuego's variants is created using only natural ingredients. In addition, the El Fuego brand dispenses with flavourings. This is the pure taste of nature. Thirdly, tradition. El Fuego originates from Paraguay - the warmest country in South America. There, it is a tradition to drink yerba mate not only in its classic hot form, but also cold - as a perfectly refreshing tereré during hot weather. As befits Paraguayan yerba mate, each of the El Fuego variants can be prepared in two versions and will taste equally great. Highly recommended!
Classic Paraguayan yerba mate, without any additives. Elaborada, which is a yerba mate consisting of fairly finely ground leaves, quite a lot of sticks and dust, in which the real power lies. The very first time you open a packet of El Fuego, you can smell the intense aroma of the smoke in which the holly was dried. The flavour is also intense - it lasts a long time and lasts for several pours. Connoisseurs of strong flavours are sure to love the taste of El Fuego Elaborada. It is also an excellent base for creating your own personalised compositions.
El Fuego Energia Guarana is a potent combination of three ingredients with tremendous stimulating potential. Two species of holly are combined here: Ilex paraguariensis and Ilex guayusa. Each contains a large dose of caffeine to stimulate and energise. As if that wasn't enough, there is also guarana fruit in the ingredients, which also contains caffeine! A powerful combination for the brave!
Among the variants of typical Paraguayan yerba mate, this combination - mint and lemon - could not be missed. When making tereré, Paraguayans often add lemon slices, citrus juice and fresh mint leaves to their guampa. The icy drink in such a composition is perfectly refreshing and cooling. El Fuego Menta Limon replicates this flavour, with perfectly chosen additives that work together in flavour and aroma, and slightly temper the intensity of the Paraguayan variety of yerba mate. There is lemongrass, mint, boldo, lemon peel and lemon verbena. Nothing to do but pour in cold water, add ice cubes and enjoy this wonderful flavour!
Recommended
£ 3,95
£ 7,90 / kg
£ 3,95
£ 7,90 / kg
£ 3,95
£ 7,90 / kg