Taste in nature! Vivarini nuts, dried fruits and additions already on offer!
2021-08-27
Although yerba mate remains the main item in our offer, we have recently decided to expand it with dried fruit, nuts and natural sweeteners. All of them are directly imported and come to us straight from proven and well-known producers from all over the world. Don't hesitate and check out the offer of the Vivarini brand!
Vivarini is the result of many years of cooperation with the best producers and growers from around the world. The brand meets the expectations of even the most demanding consumers; It will satisfy all those who appreciate excellent taste values as well as high quality, proven origin and the high ethical standards of production. One of the ideas behind the brand is to shorten the paths for transporting goods as much as possible. Vivarini effectively implements it thanks to the fact that it focuses on direct import. In this way, it is possible to minimize the route from the plantation to the consumer, which in turn translates into a reduction of the carbon footprint and making the products more environmentally friendly. The offer, so far based mainly on aromatic spices from various parts of the globe, has just been extended to include nuts, dried fruit and natural sweeteners - erythritol and xylitol. As you can see, it becomes more and more varied; the common denominator, however, is the top quality. All Vivarini products have obtained appropriate certificates confirming the fulfillment of all safety requirements and guaranteeing their natural origin. The offer does not include food based on genetic modification or containing preservatives. For proper protection, the whole thing goes to dedicated packaging, which perfectly protects against the loss of valuable assets. No wonder that when you open the package, our nuts smell like they've just been picked!
Wide range of Vivarini products. Check out our favorites!
Vivarini's offer is constantly expanded with new products. Which of them are especially worth you interest? Our suggestions
If you like nuts, the unusual, slightly buttery taste of "Brazilian gold" is surely well known to you. We're talking about Brazil nuts , which deserved such a proud-sounding nickname for a reason. The presence of unsaturated fatty acids as well as vitamins and minerals make them an excellent healthy snack and a valuable addition to your favorite dishes or desserts. What's more, he can also blend them to get a delicious sandwich cream. Delicious!
How about a natural sweetener that's actually completely calorie-free ?! In recent years, erythritol has made a dizzying career as a dietary alternative to conventional sugar. The substance shows up to approx. 90% of the sweetness of sucrose and is completely removed by the body after consumption. It is characterized by a unique, as if a mint note, which additionally enriches the taste. It is used, among others in the production of low-calorie sweets, it is added to cakes and other desserts and drinks. Due to the fact that it does not cause caries, it is described as tooth-friendly and is sometimes a component of chewing gums. What application will it find in your kitchen?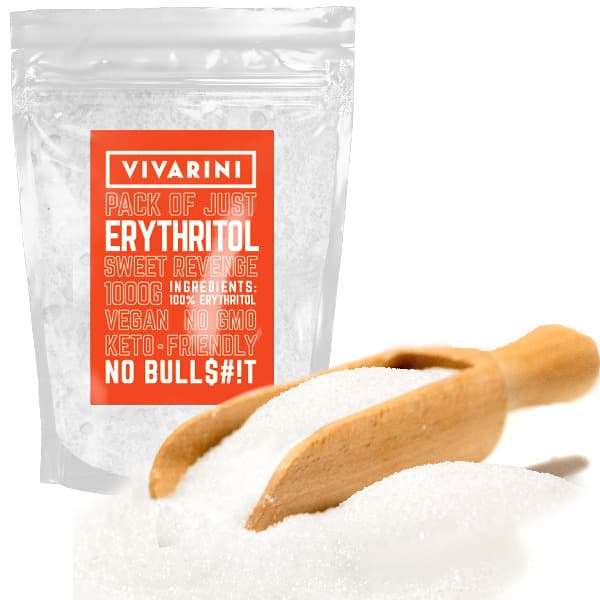 Due to its tart taste, cranberries are rarely eaten as a fresh fruit. Accompanied by sugar and a bit of vegetable oil, it becomes an excellent snack and a great addition to cakes, desserts and even infusions. In the maze of offers from various sellers, however, you should carefully read the ingredients given on the label. You can also skip analyzes and comparisons and simply bet on cranberries from Vivarini. However, as one of the few on the market, it does not contain any preservatives!